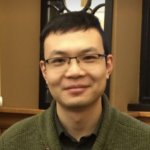 Jien Zhang is an ecosystem and hydrological modeler in the ACES group. His projects employ climate data, process-based models, GIS, and statistical approaches to simulate and identify linkages between climate, hydrology, and ecosystems. He is using large regional climate datasets and USDA food databases to explore the abrupt ecological changes, which might occur in the past as well as are anticipated in the future, for agricultural ecosystems in the US.
Representative publications:
Zhang, J., et al. 2016. Extreme Precipitation Drives Groundwater Recharge: the Northern High Plains Aquifer, Central United States, 1950-2010. Hydrological Processes 30: 2533-2545.
Zhang, J., et al. 2015. Assessing Vegetation Cover Dynamics Induced by Policy-Driven Ecological Restoration and Implication to Soil Erosion in Southern China. PloS One 10: e0131352.
Contact:
email: jiz.ees-AT-gmail.com
office: 436 Birge Hall